This past September, as thousands of archaeologists convened in the medieval center of Barcelona, I was getting ready to present the preliminary results from the interviews that Dr. Ioanna Antoniadou and I conducted in Zakros this summer. The talk was part of the 2018 meeting of the European Association of Archaeologists. It was called "Linking the Archaeological Past and Agricultural Present: Tourism, Heritage, and Olive Production in the Zakros Valley, Crete." See below for the abstract and a link to the presentation.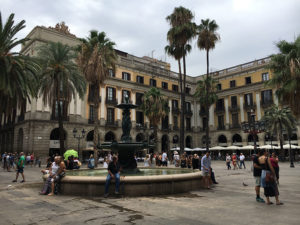 First, a note on the paper. Admittedly, I wrote the abstract well before Ioanna and I visited Zakros together. It is a rather ambitious vision of what I had hoped to learn from our conversations with local residents of the valley. Naturally, the Zakrites have a lot more to say about olive farming, tourism, and the rich archaeological heritage in their area than I could possibly cram into a 15-minute talk. (For more about our work this summer, see this post). Needless to say, we're excited to continue with the research and hope this talk helps open the way for more conversations about a truly amazing region in eastern Crete.
Here is a link to the presentation (PDF).
And here is the abstract:
Capitalism has transformed rural landscapes in Europe, revolutionizing farming technology, attracting laborers to cities, and contributing to rural depopulation. At the same time, its forces have operated on a deeper societal level to restructure the social fabric of rural communities and alter their relationship to the cultural landscapes around them. This paper seeks to explore how these forces have played out in the Zakros Valley, a rural zone located in the eastern part of the island of Crete.

Less than one century ago, the Zakros Valley was a vibrant but remote agricultural landscape with roughly one dozen inhabited villages. With the discovery of the Minoan palace of Kato Zakros in the early 20th century and the incorporation of its gorges into a cross-European hiking trail (the E4), the region became a key tourist destination and the demographic makeup of its villages began to shift. However, far from replacing the agricultural livelihood of the region, tourism has contributed to its transformation. The valley is still an epicenter for olive oil production, with manufacturers like the Agricultural Cooperative Zakros and smaller family companies like Terra Zakros harnessing the region's archaeological past as a part of their marketing platforms. Another company, geared towards a French-speaking clientele, sells its products online through an "adopt-an-olive-tree" scheme.

This paper explores the connections between the archaeological landscape of the Zakros Valley, the ways in which its residents envision their relationship with the archaeological past, and the transformations in how agricultural work is performed and depicted in the cultural imagination. In particular, I use historical records and interviews to focus on the region's more recent archaeological heritage, including abandoned settlements, mule paths, and features associated with agricultural practices (e.g. field huts, terraces), which are the most immediate vestiges of the region's pre-capitalist "cultural landscape."